Today was another visit to Padibe Girls School with the Construction Committee to finalize the placement of the booths for various cultural exhibitions and where the performers of traditional dance, music, and storytelling will prepare and make their entrance to the stage or performance area.
The other day I mentioned how much progress there has been since the cease fire from the war some 9 years ago, but so much remains the same on every one of my visits: There are literally thousands of children everywhere, but less to see this visit because of the school holiday; everywhere most people use walking as the primary mode of transportation; if one has a bicycle, it is used for work: carrying water jugs, firewood, straw for hut making, large bags of harvested grain; and everywhere women and girls of all ages are carrying loads on their heads. These photos are smaller loads, but today I saw women carrying loads of wood heavier than I could even pick up. I will try to get more photos of this "local tradition".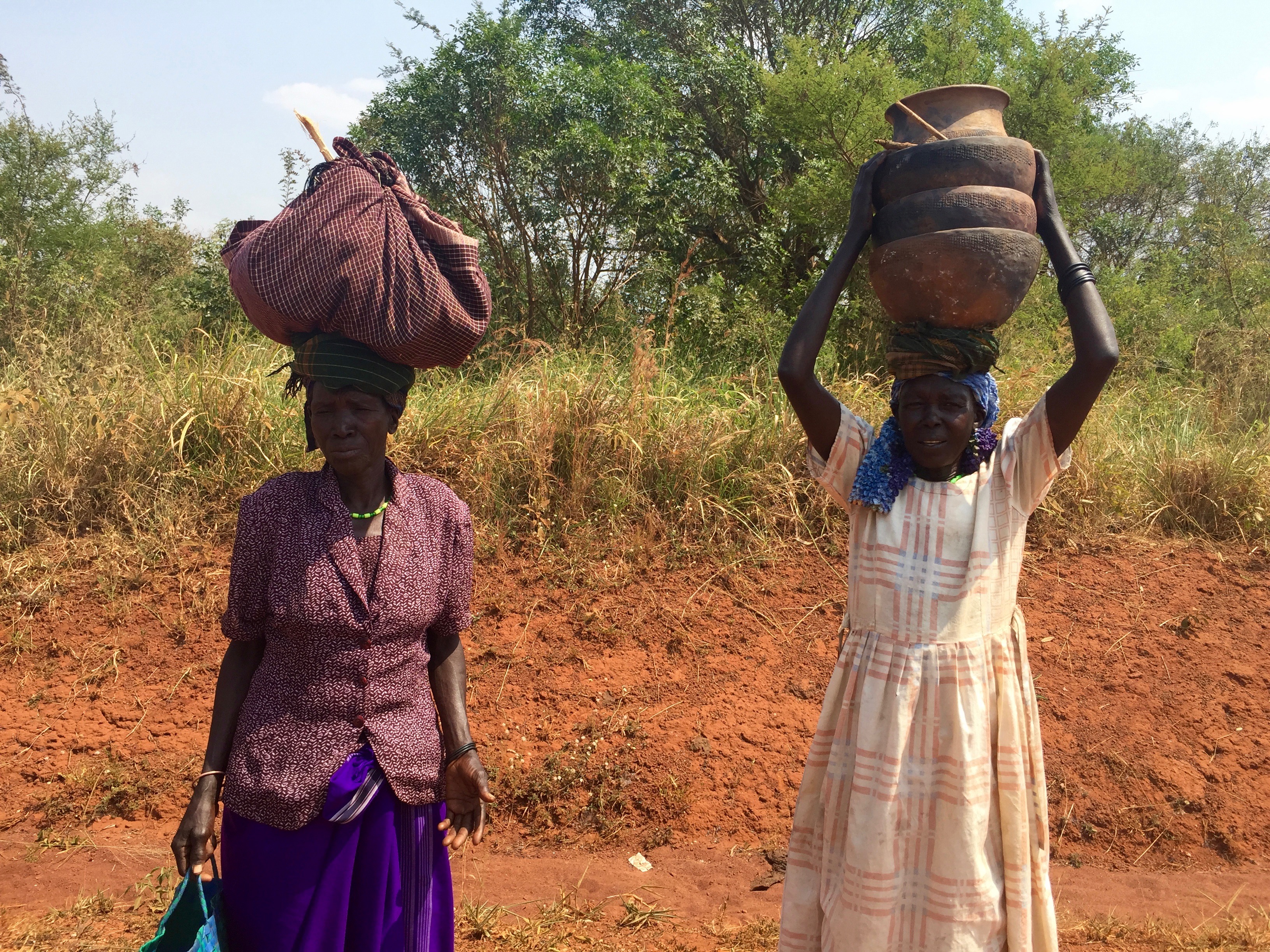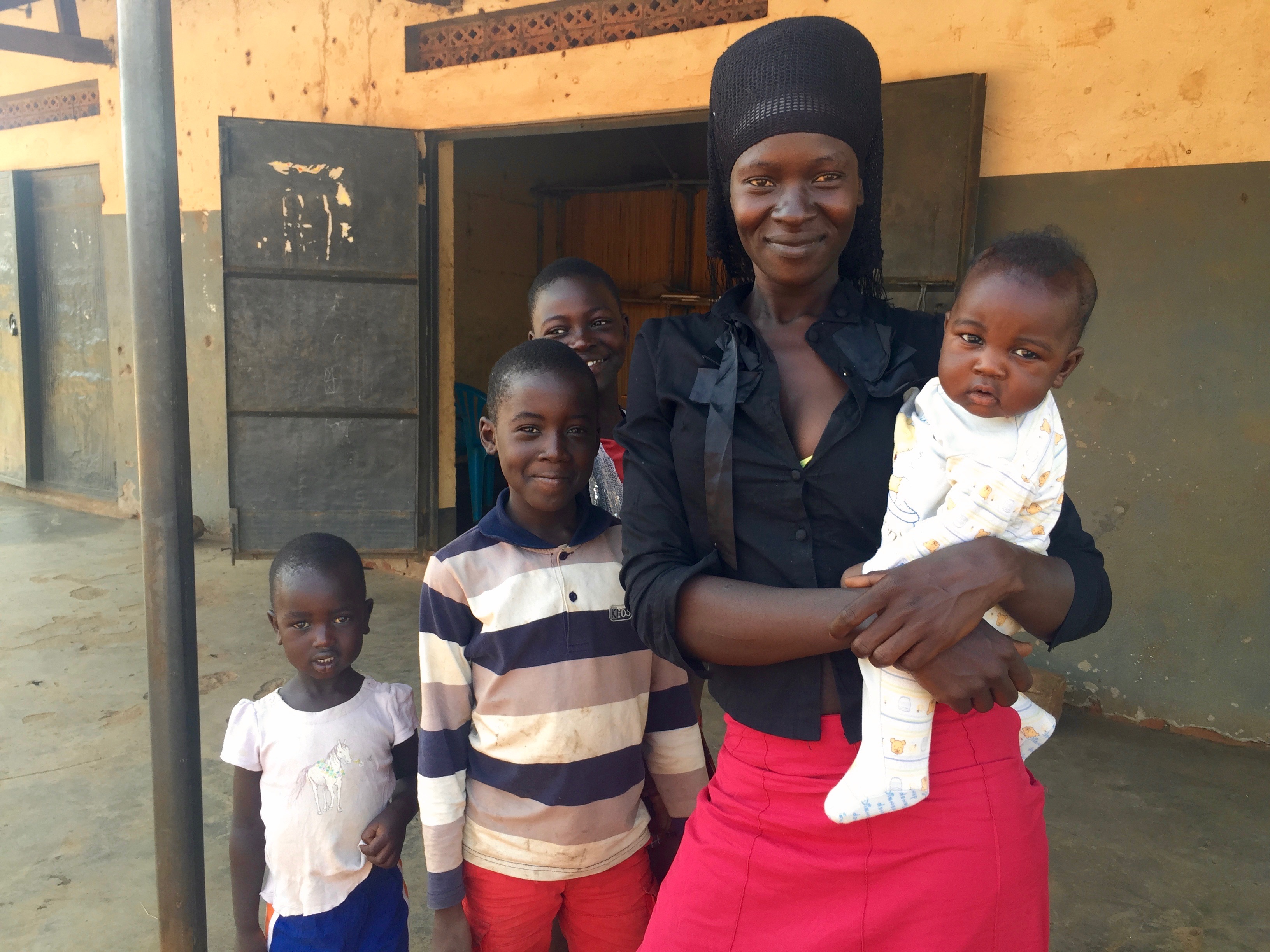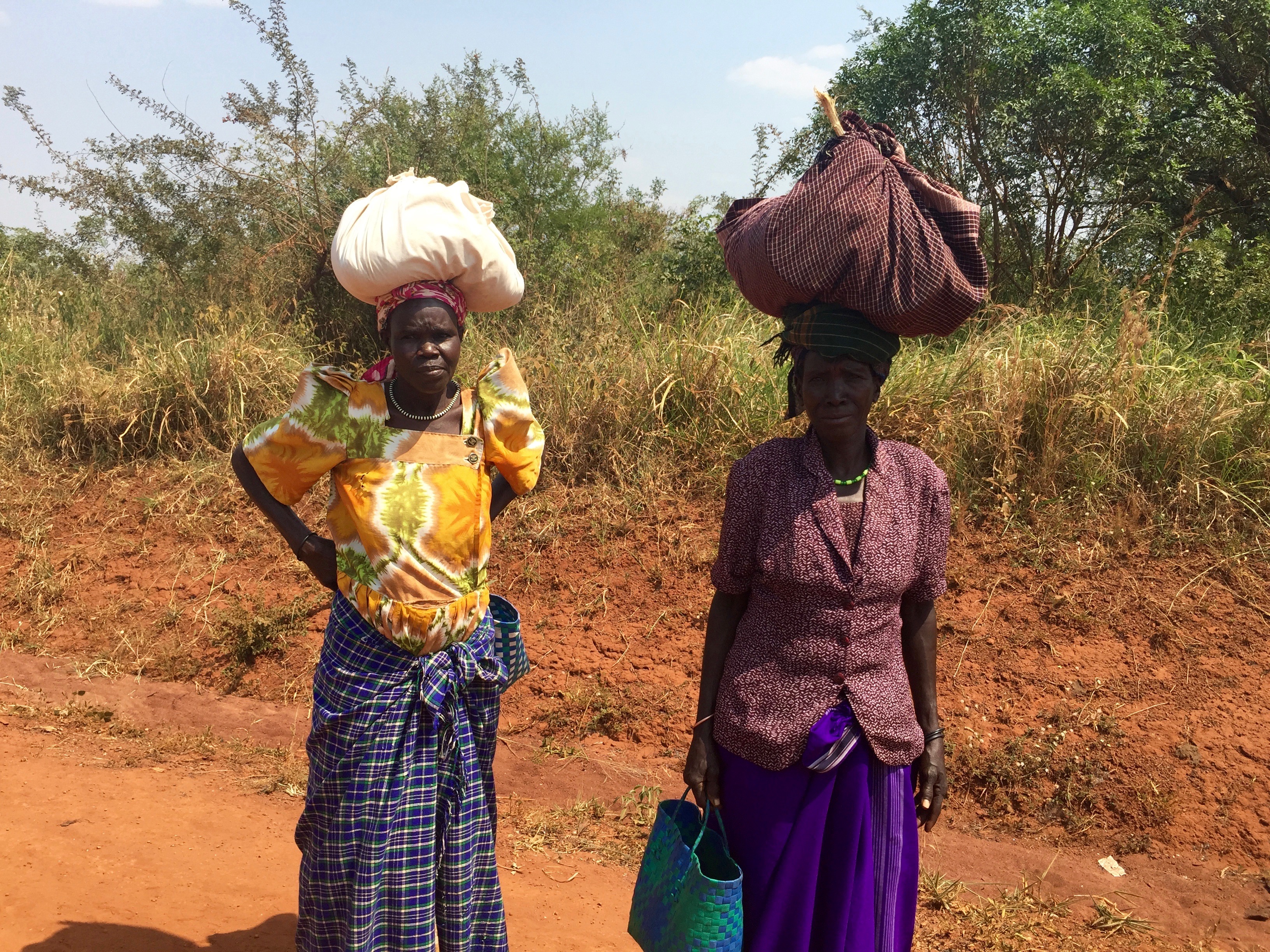 Then I climbed on behind George on the small motorcycle (Boda Boda) for a hour and a half ride over dirt roads with long sections in very poor shape to the neighboring parish at Made Opei. Before I climbed aboard they made me put on a long jacket to keep out the dust. The jacket was made of all plastic, like my light rain coat, with a very light polyester lining. I also wore my black backpack on my back. Luckily I had a chin strap on my hat and sunglasses. And, it was 1:30 pm with a temperature of about 95.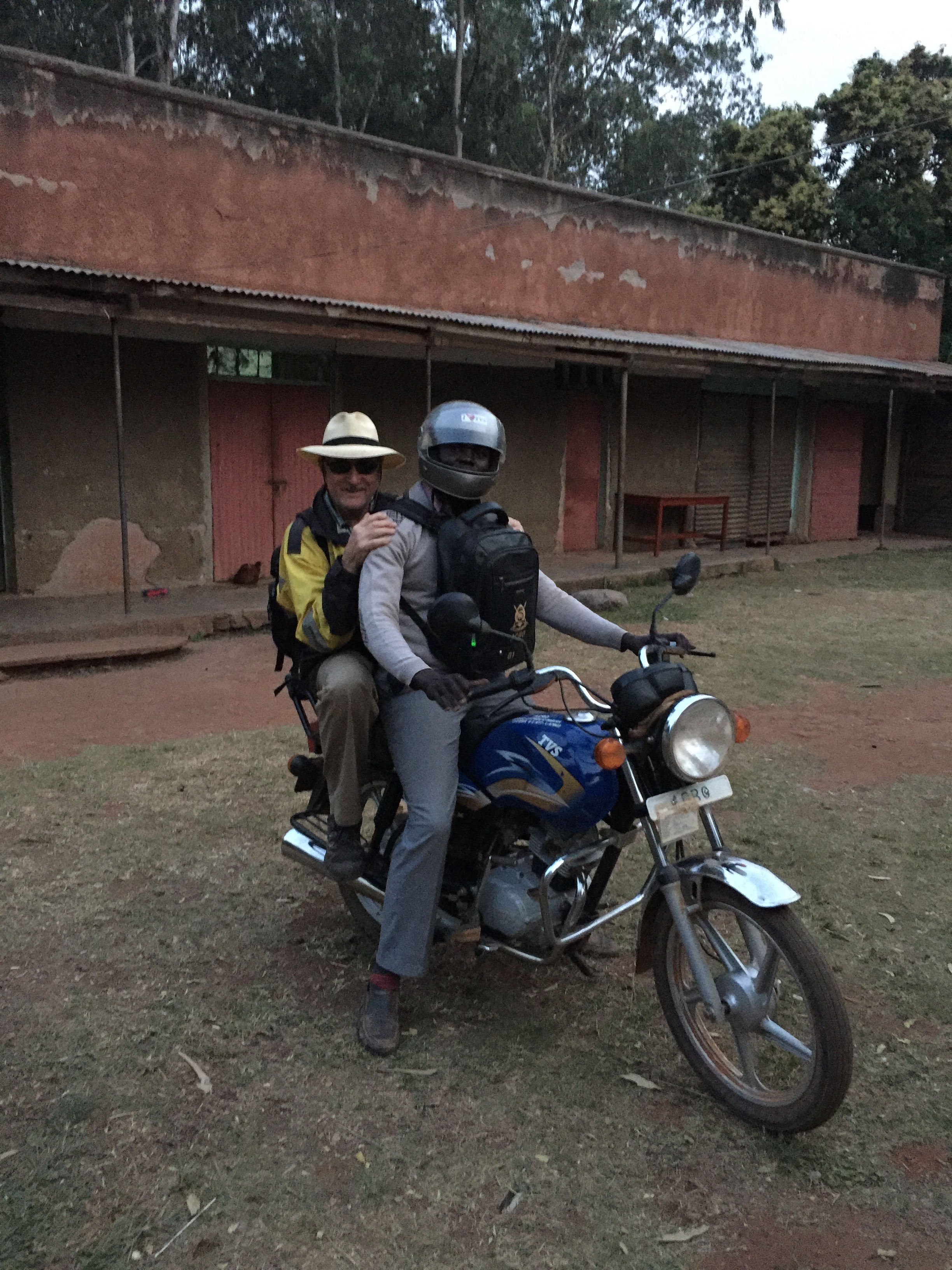 When we arrived at the church in Madi Opei I had sweat so much in the heat I was drenched. They hung the jacket inside out on a clothesline to dry, but my shirt, which I could have rung a quart of sweat out of, I had to continue wearing.
We had a great visit with Fr. Mark, who is also Dean of the district of parishes. He has been here for only a couple of years and I first met him at one mass while he was in Padibe for a few days on one of my visits.
Madi Opei is only 14 kilometers (8.5 miles) from the South Sudan Border. This part of South Sudan is populated by a different ethnic group of people than the part of the border I have most often visited in Padibe Parish, Nomoromo. In the part of South Sudan bordering Nomoromo, the people are also Acoli, but not near Madi Opei. This is why there is much more chance of violence and theft here.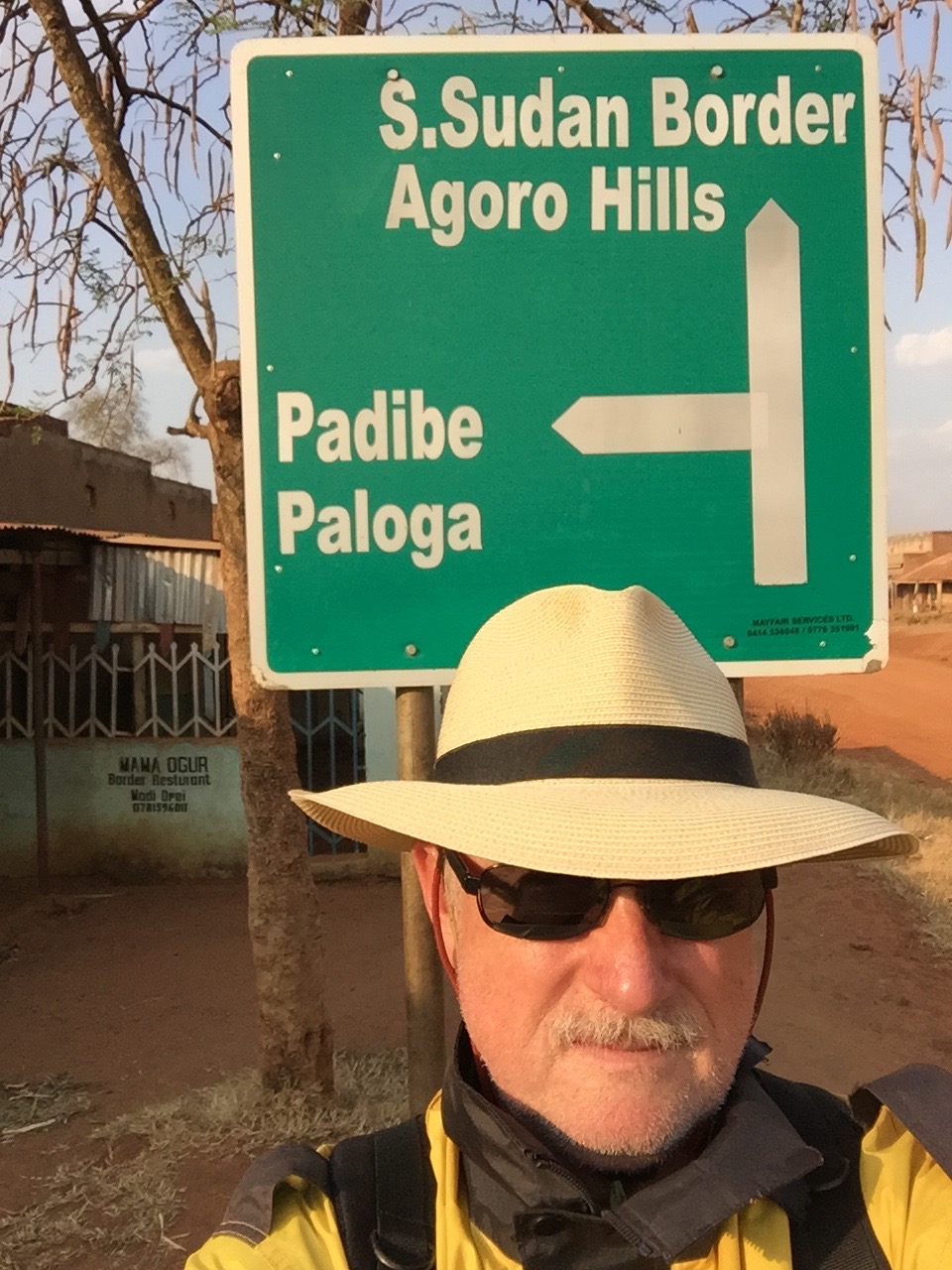 4 weeks ago and about 40 kilometers (25 miles) from the parish, the civil war fighting in South Sudan was so bad over 350 people crossed the border and came to Madi Opei for safety. They were taken care of for several days by he local people until the UN arrived and trucked them to a refugee camp West of Gulu. I think Fr. Mark and his parishioners could all use our prayers, and especially for the poor civilians in South Sudan.
Where is my Go Pro when I need it!!! As difficult as it was to take a video while riding a Boda Boda and traversing through the middle of a herd of cattle, I did the best I could. But, there were so many sights I would have taken if I wasn't holding on for dear life!
Actually, George drove very safely knowing I was on the back. We stopped at a few spots, but pretty much kept the pedal to the metal, but oh the roads and the red dust! I am sure I ate enough dust for a whole meal.
We made it hone safely just after dark because there were some clouds on the horizon. I could not believe how tired I was and all I did was ride on the back! But after a cold shower, clean clothes (I was just as sweaty on the return as when we went), and a cold Nile Special, I sat outside and worked on the blog until I just had to go to bed.